Dragonflies of California
and Common Dragonflies of the Southwest
A Beginner's Pocket Guide
By Kathy Biggs
ISBN 0-9677934-2-4
Pub. Date March 2006
---

This guide is currently out of print.
---
Common Dragonfies of the Southwest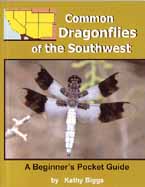 with the dustjacket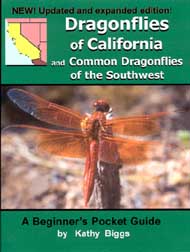 which supplements the SW guide
add up so that the two together cover ALL the species found within CA, and 29 more species found in the greater Southwest.
The inside of the dust jacket contains images and information on 6 CA/northern endemic species not included in the Southwest Guide.

- softbound (laminated cover), 160 pages
PLUS double-sided dust jacket containing photos and information on an additional 6 CA species

- fits in your pocket (5.75" X 4.5")

- dragonflies & damselflies included

- ALL 112 CA species mentioned with pages for 98 of these CA species
- includes all the species found in southern CA and more of the species found in northern CA than the out-dated CA only guide did.
- a total of 129 species of SW Dragonflies and Damselflies included

- sizes, descriptions, comparisons, habitats, behaviora

- UPDATED flight periods and distribution from our out-of-print CA only guide

- includes a checklist of all CA species
- checklist for ALL 189 SW species by state included

- 350 full-color photos/scans


- most pictures taken as digital images and scanning not needed (therefore better quality images)

ALL new photos - no photos reused from prior CA only Dragonfly Guide

- book printed using the new print directly from CD technology (therefore better quality images)

[originally $10.95) - SOLD OUT but book store returns are available for a limited time for only $5.00


Table of Contents, Preface, two sample pages and the back cover customer reviews
Click here for more information on Dragonflies of California and Common Dragonflies of the Southwest
Click here for more information on Common Dragonflies of the Southwest only
---
---
Got your own business? Sign-up for PayPal NOW!


We've used PayPal almpost 20 years and it has worked flawlessly, plus it's a GREAT way to do International Business!